Blue Med Africa Project
High School Special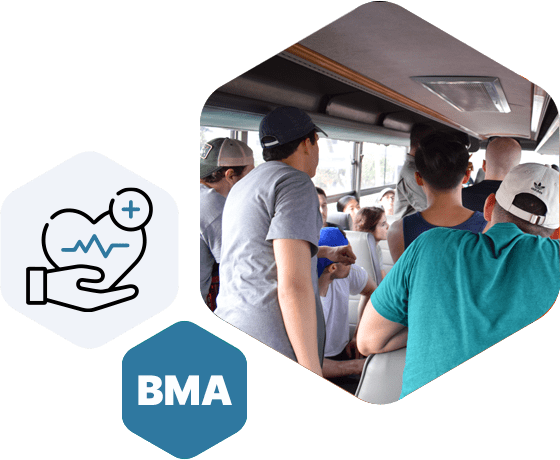 High School Special
Overview
Volunteering in Ghana, the gateway to Africa, offers you the opportunity to learn, work and make an impact in the impoverished community and save lives. Volunteers will have the opportunity to work directly with experienced Ghanaians, whilst learning about their culture and making a positive impact on the lives of both young and old. This project is design specifically for high school students which we believe will allow them to know more about their future aspiration.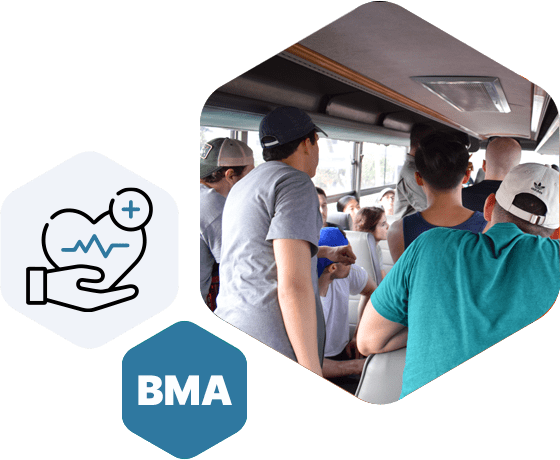 High School Special
Activities
Program schedules:
Community service: 42hours in two weeks
Age: 16 and above. (If under 18 years old, a letter of consent from a parent or guardian)
Location of Programme
Ho, the capital of the Volta Region which is 2 hour drive from the Kotoka International Airport.
What is Included?
Accommodation(bedding, water and electricity)
Food(filtered water, breakfast, launch, and Dinner)
Airport pick up and drop off
Hospital Placement fees (preceptorship fee)
24/7 Emergency support and supervision
Training, in-country orientation
24/7 internet facility (Emails, Facebook, Skype, etc)
Allowances to host families and cooks(Hostel)
Drumming and dancing Lessons with locally made outfit
Phone SIM cards to make calls home
Travels to all Blue-Med Africa project sites
All weekend Travels in the Volta region
Hotel Accommodation on your on your first and last night in Accra (If applicable)
Certification and references
Visa Support(If applicable)
What is not Included?
Flight
Insurance & Visa processing charges
Vaccinations & Immunizations
LOCATION DETAILS:
The Volta Region is the most easterly region of Ghana and an area of extraordinary scenic beauty. The rolling hills and valleys, rocky outcrops overlooking Lake Volta, and lagoons, rivers and waterfall make it one of nature's most attractive gifts to Ghana. The region stretches from the coastal plains on the Atlantic coast right up to the arid lands of the north, and climatic conditions can vary tremendously. From the coastal plain, fringed by sun-dappled beaches and mangrove swamps, through moist deciduous rain forests in the central belt, where Mt. Afadjato at 885m is the highest point in Ghana, to the arid savannah of northern Ghana, you can experience almost every tropical climate in West Africa.
This region is also dominated by the River Volta and Lake Volta, on its western flank. The lake is a source of power, and much of the water for the region; it is the water highway to the north, a great fishing lake as well as a popular recreational area.
Discover the Wli Waterfalls in the tropical forest near Hohoe, the highest in Ghana and West Africa, or the nearby Tsatsadu Falls at Alavanyo, or the Tagbo Falls at Liate Wote , Tafi monkey sanctuary, which are almost as spectacular. Mount Afadjato attracts climbers of all ages, whilst other tourist sites include the historic Cape Coast castle, Kakum national park, Mole national park, Lake Bosomtwe and as well as many more.
PROJECTS: High school volunteer would partake in four major projects during your time with Blue-Med; namely hospital, hand washing project, community medical outreaches, school health and orphanage.
HOSPITAL
Blue-Med Africa offers you the opportunity to gain experience in Ghana through the hard working medical professionals in our health facilities. Our medical internship program gives volunteers abroad an opportunity to learn about how health system is practiced in Ghana. We SAY acquire credit hours whiles having fun. Volunteers have the opportunity to work with clinics and teaching hospitals in the Ghana. Volunteers have the following departments to observe; namely surgical opd, maternity, emergency, dental, surgical wards, pediatrics, lab etc.
COMMUNITY OUTREACH
The idea to move into impoverish communities was formed when we realized that most of the cases that report to our health facility could be treatable if detected early. There are several reasons why early detection usually did not occur. These include an inability to visit the hospital due to lack of funds, accessibility (in terms of bad roads and location of the health facility in proximity to the community) and inability to access national health insurance.
The medical teams together with international volunteers move to different communities on a daily basis to organize mobile clinics free of charge. The local community members go through medical screening, go through consultancy and finally though the pharmacy for medications. The medications given out are supplied by the organization.
Volunteers are divided into three different groups mainly the Out patients departments, consultation and the pharmacy. In the OPD (Out Patient Department) volunteers are offered the opportunity to take vital signs, check weights, take temperature, check blood sugar level, register patients, assist patients in walking to & from the clinic. Every volunteer qualifies to work with the OPD after the basic training offered during orientation
HAND WASHING PROJECT
Hand Washing Project; Blue-Med Africa offers you the opportunity to gain experience in Ghana through the medical professionals in our community schools. Hand Washing is the single most important means of preventing the spread of infection in our community schools. Volunteers has the upper hand here than the staffs; The volunteers would help with the PowerPoint presentation, one on one education & demonstration, helping install water tank station in the school and teaching them basic hygiene practices. Volunteers would have the rest of the day talking with the kids and serve as a mentor.
SCHOOL HEALTH
Blue-Med Africa offers you the opportunity to gain experience in Ghana through the hard working medical professionals in our health facilities. School health program also makes you know our educational system in Ghana especially the basic level. Volunteers has the upper hand here than the staffs; The team screen for ring warms, wounds care, bad tooth, skin infections and give them talks on personal hygiene. Volunteers would have the rest of the day to interrupt with the kids and the teachers. The kids in our school love to be with volunteers.
ORPHANAGE
Volunteers are placed at orphanages and care centers where they are assigned to different duties on rotational basis. Volunteers will spend time providing companionship to both orphans and children in the communities.
Volunteers will help the orphans organize activities and also have the opportunity to listen to the life challenging stories of the orphans and even serve as a mentor. The orphans are led to places of interest to share and talk one-on-one.
Blue-Med volunteers also have the choice to work at a local orphanage after your normal day work. Teaching children who may otherwise not receive a proper education and will help promote healthy living habits. Volunteers generally teach English (speech, writing, and spelling) and mathematics (addition, subtraction, multiplication and division). They also play with the children and have in the past taken up projects such as creating a sustainable garden to provide food for the orphans. There are usually around 35 children (mostly age 7-12) at the orphanage. Most children understand English and some don't speak English, but often older children may have to interpret and translate for younger ones.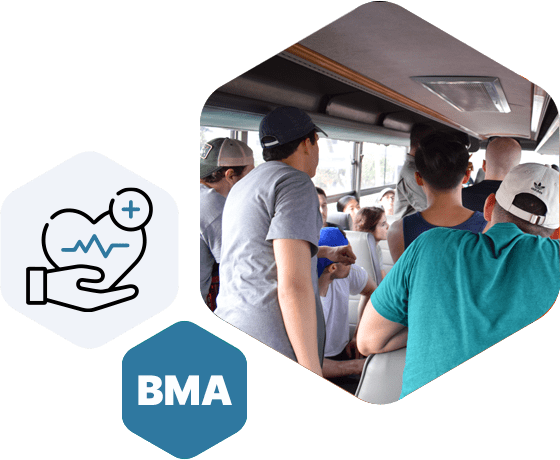 High School Special
Role
Working alongside other medical professionals where you are offered hand-on projects. Volunteers are working more than just observation.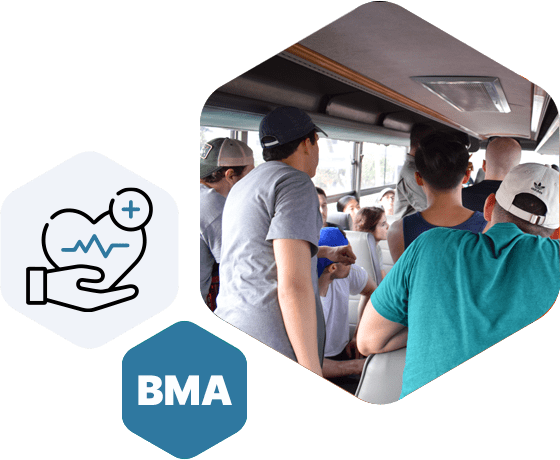 High School Special
Group Volunteering
Coordinating a group of students, community groups, or colleagues to volunteer can contribute a large impact by planning additional projects not included in the original program. Blue-Med Africa will support and organize these special projects and experiences if interested. There are special discount for groups. If you would like to send a group on a trip, please email info@bluemedafrica.org to discuss your ideas and interests further or give us a call at +233243380168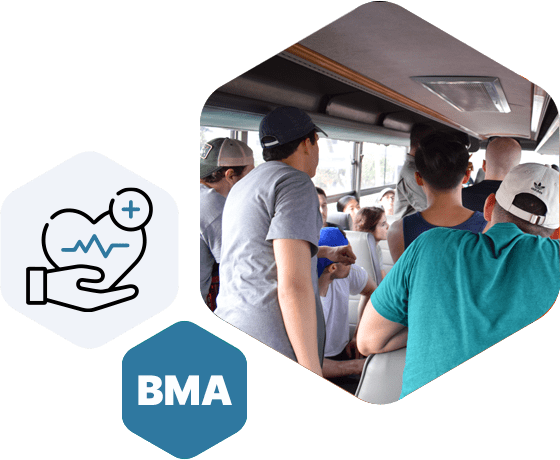 High School Special
Individual Volunteering
Apply as a solo volunteer and join other international volunteers from different part of the world in Ghana. You would meet the wonderful medical team and the staffs as a family.
Some High school student blog:
https://ragakpo.wordpress.com/
http://bluemed.blogspot.com/
http://seanleeghana.blogspot.com/
http://gittzusgoestoghana.blogspot.com/
https://gildagoesglobal.wordpress.com/
http://teichdoesmedicine.blogspot.com/2012/09/tro-tro.html
http://lville4unicefghana2012.blogspot.com/
http://girlsgoneghana.blogspot.com/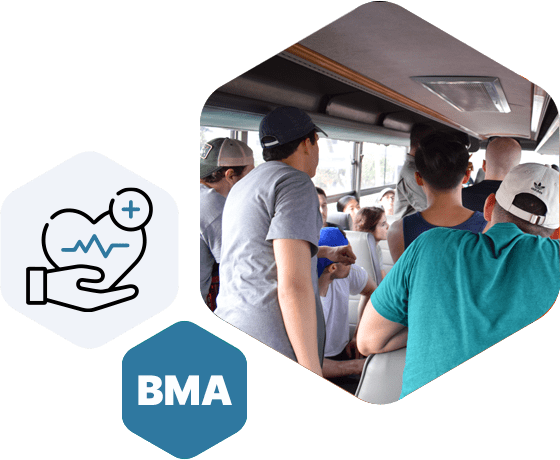 High School Special
Weekend Tours
Wli Waterfall
The Wli Waterfall is located in the Agumatsa Wildlife sanctuary, which is also home for hundreds of fruit bats, birds and some monkeys.
It is a recreational place for all who want to derive relaxation from nature. The Wli falls is a perennial flowing water from a height of about 400 metres. It is the highest waterfall in West Africa
Tafi Atome Monkey Sanctuary
Tafi Atome, is a beautiful and quiet village surrounded by thick forest with luxuriant vegetation where sacred and rare species of Mona Monkeys dwell. A trip into the forest with a guide gives visitors the opportunity to see these real endangered species in their natural habitat. The villagers live virtually with these "sacred" neighbours – Mona Monkeys.
Mountain Afadzator
Afadzato is the highest mountain in Ghana. Its summit stands at 2,905 feet. Climbing of mountain Afadzato to its highest peak takes about 40 minutes. An added attraction at the foot of the mountain are varied and rare species of butterflies that can be discovered. At the peak, one can have a bird's eye view of the Volta Lake.
Kente and Batik Village
Kente is the hand woven cloth that is the best known and most widely recognized African textile. It has been declared a world heritage treasure by UNESCO. Kente weaving is so uniquely Ghanaian and so historically and culturally ingrained into their society that learning how to weave is learning about Ghana and its people.
Kakum National Park
Kakum National Park is a 350 square km national park in the Central Region of Ghana. The park was first established in 1960. The entire area is covered with tropical rainforest. The Park contains rare animals, like pygmy elephants, forest buffalo, civet cats, a wide array of birds, more than 500 species of butterflies. Kakum National Park has a long series of hanging bridges known as the "Canopy Walkway". The park contains a restaurant, a Lodge, a picnic area, a camping area and a wildlife education center
Cape coast castle
The Cape Coast Castle was originally controlled by the Portuguese, Swedes, Danes, and Dutch, before the British took over. With each occupation, the castle was enlarged both in terms of slave exporting capacity and military defense. Much of the recent building on the upper levels must not date back more than a couple hundred years at most. The lower portions and the dungeons appear to be quite old and well used. It almost seems as if the men's dungeon is below sea level is it goes down rather deep into the bedrock on which the castle is built. The women's dungeon is quite a bit smaller and at a higher level, but both dungeons would have been both crowded and unhealthy on the whole. The ramparts still have rusty canons. The museum is informative in a variety of ways regarding tribal culture and slavery. The Castle has great views of the coast and the town. The gift shops at the entrance have garments and other handicrafts worth considering, even if at a higher price than available elsewhere. The bookstore upstairs has a good selection of readings appropriate for those interested in learning more.